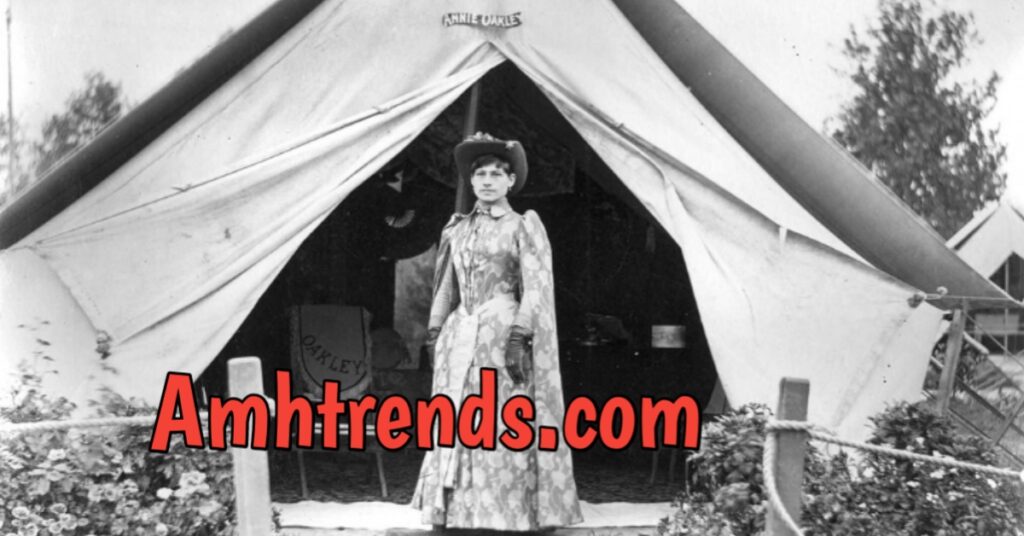 Who are Annie Oakley?
Both lucky and extremely talented, Annie Oakley used her astonishing marksmanship to escape a poor childhood in Ohio and become the first female superstar in what had been a male-dominated profession.
Childhood
Annie Oakley was born Phoebe Ann Moses in 1860 in rural Darke County, Ohio. Her father died when she was young, and Annie was sent to the county poor farm. At age 10, she was sent to work for a family who treated her cruelly — she called them "the wolves." Eventually Annie ran away from them and was reunited with her mother.
Annie helped support her family by shooting game in the nearby woods and selling it to a local shopkeeper. Her marksmanship paid off the mortgage on her mother's house and led her to enter a shooting match with touring champion on Thanksgiving Day 1875. To Butler's astonishment, the 15-year-old beat him in the competition. Butler fell in love with her and they were married the next year.
Little Sure Shot"For the next few years, Frank toured with a male partner, performing feats of marksmanship on stage. But when his partner fell ill on May Day in 1882, Annie replaced him and won instant accolades for her shooting skills.
Soon Butler began managing the act, leaving the spotlight to Annie. Around this time Annie adopted the professional name "Oakley," apparently from the town of Oakley, Ohio. Oakley joined the vaudeville circuit, making her own conservative costumes and distinguishing herself from the more risqué look of other performers.
At one event in St. Paul, Minnesota, in 1884, Oakley attracted the attention of legendary Native American warrior Sitting Bull, who adopted her and named her "Watanya Cicilla," or "Little Sure Shot." The nickname stayed with Oakley as she rose in the show business ranks. She joined Buffalo Bill Cody's Wild West in 1885 and performed in the show for most of the next 17 years.
Oakley dazzled audiences with her shotgun abilities, splitting cards on their edges, snuffing candles, and shooting the corks off bottles. While maintaining her modest wardrobe, she also knew how to please a crowd, blowing kisses and pouting theatrically whenever she intentionally missed a shot.
Stardom
Oakley's career took off when she performed with Buffalo Bill Cody's show at the American Exposition in London in 1887. Oakley met Queen Victoria, who called her a "very clever little girl." She wowed the British papers. Despite her success, a rivalry with a fellow sharpshooter,Lillian Smith, had grown so tense that it led to Oakley's departure from the show at the end of the London engagement.
She returned to the theatrical stage and toured with a rival wild west show. Then when Smith left the Buffalo Bill show, Oakley rejoined Cody in time for a triumphal three-year tour of Europe that began with the 1889 Paris Exposition. By the time it ended, Oakley was America's first female superstar.
But she never forgot her roots in poverty — stories circulated that Oakley was so frugal that she would siphon off lemonade from Cody's pitcher and carry it back to her own tent. "I've made a good deal of money in my time," Oakley said, "but I never believe in wasting a dollar of it." She and Butler gave money to orphan charities, and helped support her mother and his daughters.
Oakley earned more than any performer in the show save Cody, but Oakley supplemented her income with shooting competitions on the side. With Oakley's skills — on various occasions she hit 483 of 500, 943 of 1,000, and 4,772 of 5,000 targets — she did quite well on the shooting circuit.
New Arenas
Oakley and Butler were in a train accident in late 1901, and shortly thereafter she left Cody's show for good. Within a year she was appearing on stage in a melodrama written for her, The Western Girl. Hopes for a quieter life were dashed in 1903, when William Randolph Hearst published a false article claiming she was in jail for stealing to support a cocaine habit.
Oakley, whose "highest ambition" was "to be considered a lady," was mortified, and she ended up filing against newspapers that had libeled her, winning or settling 54 of them. That took up the bulk of her efforts until 1910, and Oakley subsequently joined another Wild West show, performing until 1913.
She then enjoyed a comfortable retirement with Butler in Maryland and North Carolina, hunting and giving shooting lessons to other women and performing at charity events. During World War I, Annie also offered to raise a regiment of crack female sharpshooters, but the government ignored her, so Oakley instead raised money for the Red Cross by giving shooting demonstrations at army camps around the country.
Annie Oakley died on November 3, 1926. Frank Butler, to whom she had been married for 50 years, died 18 days later.