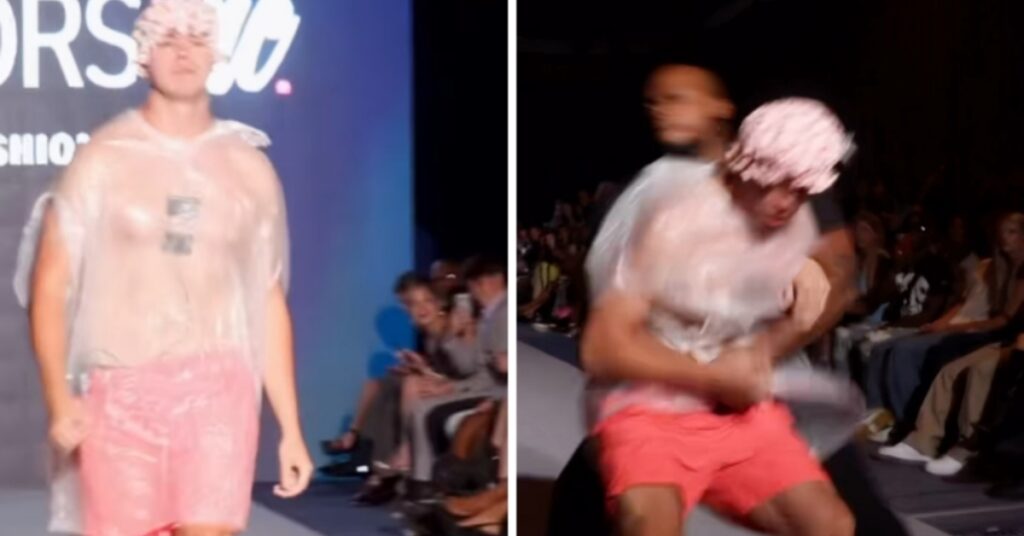 Fashion today is all about embracing diverse styles and pushing boundaries. People no longer just follow trends they aim to innovate and defy norms.
But where do we draw the line? Prepare yourself for a rather surprising answer, as a recent incident at the renowned New York Fashion Week left fashion enthusiasts amused and intrigued.
In the midst of the glitz and glamour of the event, an uninvited disruptor emerged, capturing the attention of all in attendance. This disruptor turned out to be a 21-year-old YouTuber named Fred Beyer.
With unwavering confidence, Beyer made his way onto the runway, clad in an ensemble that shocked everyone.
YouTuber Beyer's outfit consisted of a garbage bag on the top, a quirky shower cap, and a pair of pink shorts.
A clip of the incident quickly spread online and became , revealing the identity of the culprit, YouTuber Fred Beyer.
The content creator, who is now followed by over 66,000 people on Instagram, uploaded a video on his YouTube channel depicting the events, explaining how he infiltrated New York's Fashion Week and the show.
Read also:
Mohbad Cause of Death , What Happened to Nigerian Musician Mohbad?