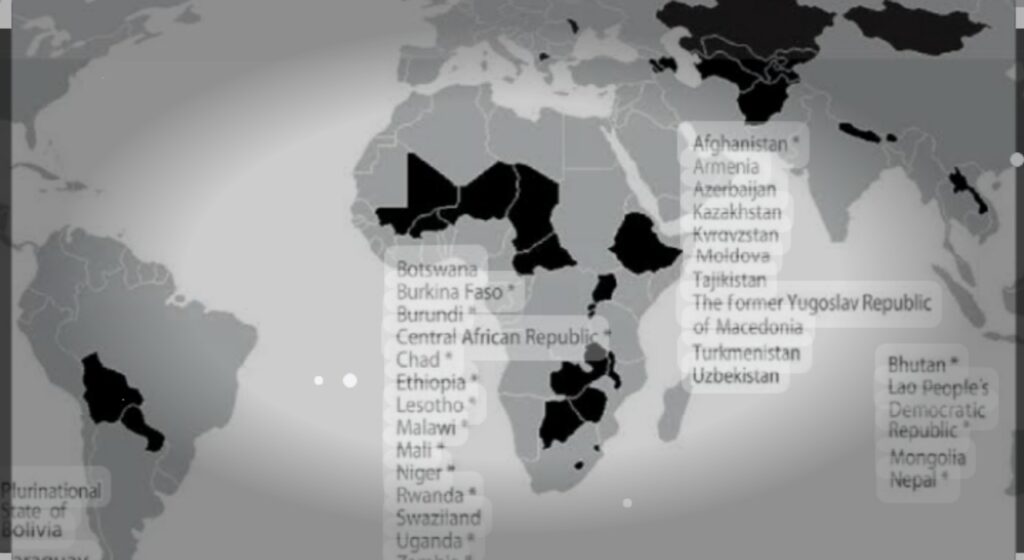 A country is considered to be landlocked if its coastlines are located on endorheic basins or if its territory is not connected to an ocean. There are now 44 landlocked nations, along with 4 de facto landlocked states. Kazakhstan is the largest landlocked nation on earth.
Generally speaking, not having access to international waterways results in certain political and economic drawbacks. Because of this, nations big and small have struggled throughout history to acquire access to the sea, even at great cost to their resources, lives, and political capital.
Why Is Being Locked Up a Problem?
Being a landlocked nation has many drawbacks, despite the fact that some nations, like Switzerland, have thrived despite not having access to the oceans. Some landlocked nations are among the world's poorest. Being landlocked has certain drawbacks, including:lack of access to oceanic food sources like fishingLack of access to ports and global shipping operations results in high transportation and transit costs.Dependence on neighbouring nations for access to international markets and natural resources creates geopolitical vulnerabilities.Lack of naval options results in military restrictions.
What Continents Do Not Have Landlocked Nations?
Australia is clearly not a landlocked country, and neither is North America. More than half of the 50 states in the US lack access to the oceans directly due to being landlocked. However, many states do have access to the oceans by water, either directly or through the Mississippi River, Chesapeake Bay, or Hudson Bay.
List of landlocked countries
Only Bolivia and Paraguay are landlocked nations in South America.
Andorra, Austria, Belarus, Czech Republic, Hungary, Liechtenstein, Luxembourg, Macedonia, Moldova, San Marino, Serbia, Slovakia, Switzerland, and the Vatican City are among the 14 landlocked nations in Europe.
Botswana, Burundi, Burkina Faso, Central African Republic, Chad, Ethiopia, Lesotho, Malawi, Mali, Niger, Rwanda, South Sudan, Swaziland, Uganda, Zambia, and Zimbabwe are among Africa's 16 landlocked nations. The fact that Lesotho is bordered by just one nation makes it unusual (South Africa).
There are 12 landlocked nations in Asia: Tajikistan, Turkmenistan, Laos, Kazakhstan, Kyrgyzstan, Mongolia, Nepal, Afghanistan, Armenia, Azerbaijan, Armenia, Bhutan, Azerbaijan, Turkmenistan, Tajikistan, and Uzbekistan. It is important to keep in mind that several nations in western Asia border the landlocked Caspian Sea, a fact that does present some transit and trade opportunities.
Landlocked, Controversial Regions
The landlocked nations of Kosovo, Nagorno-Karabakh, South Ossetia, and Transnistria are not entirely acknowledged as separate nations.
Double landlocked countries
Two unique landlocked nations, referred to as doubly-landlocked nations, are encircled entirely by other landlocked nations. Uzbekistan and Liechtenstein are the two doubly landlocked nations; they are bordered by Afghanistan, Kazakhstan, Kyrgyzstan, Tajikistan, and Turkmenistan (surrounded by Austria and Switzerland).
Largest landlocked country
Although it is the ninth-largest nation in the world, Kazakhstan is the biggest landlocked nation. Its 1.03 million square miles (2.67 million km2) are bounded by the landlocked Caspian Sea, Russia, China, the Kyrgyz Republic, Uzbekistan, and Turkmenistan.
Recently added landlocked country
South Sudan, which attained independence in 2011, is the most recent country to join the group of landlocked nations.
Serbia has only recently joined the group of nations that are landlocked. Previously, Serbia had access to the Adriatic Sea, but that access was lost in 2006 when Montenegro declared its independence.